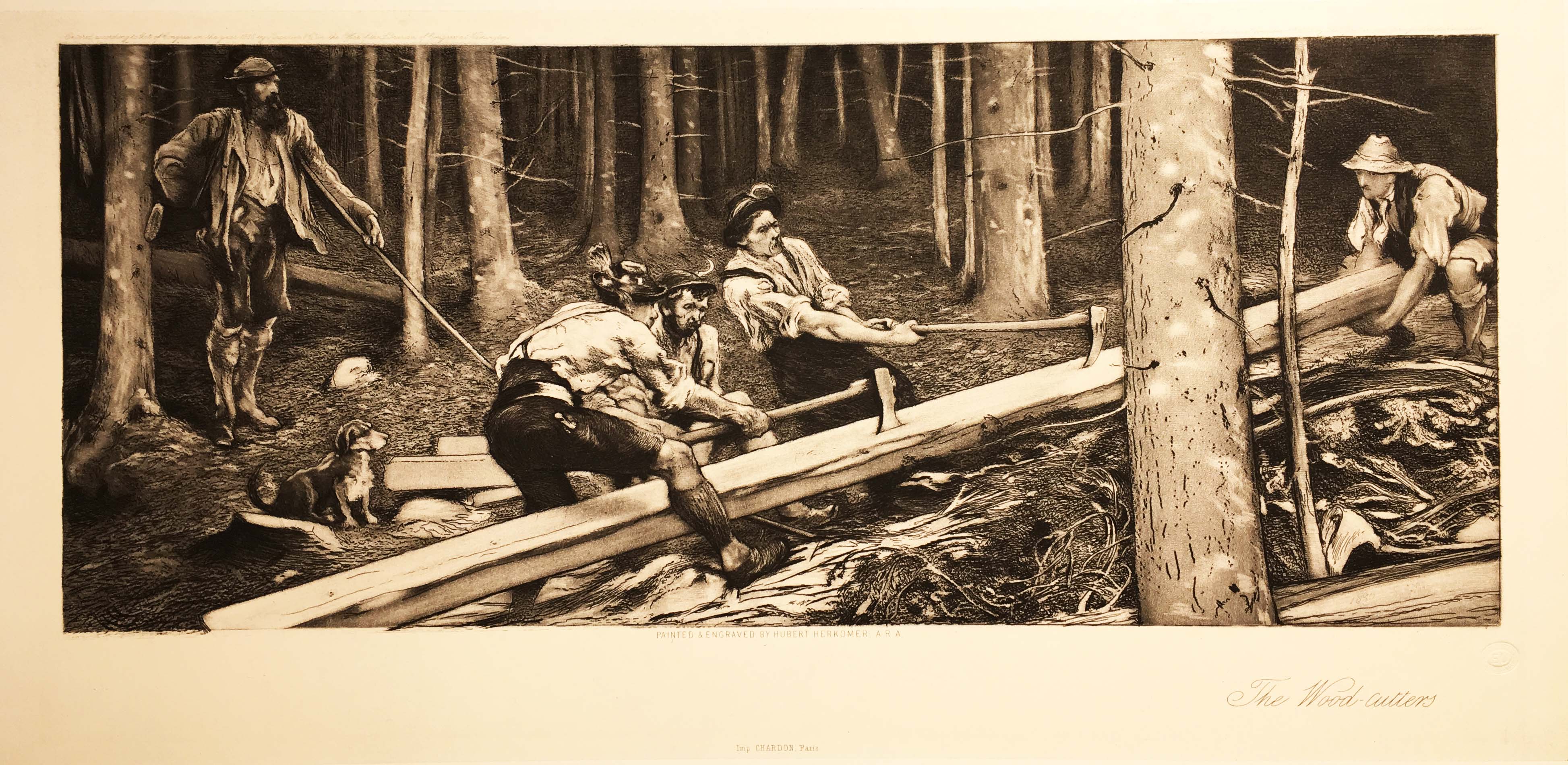 Hubert von Herkomer
The Wood-Cutters
Etching & aquatint, 19th Century.
Printed c. 1880-1882 by Chardon, Paris.
Published by the British and Foreign Artist Association, London, November 12, 1880 (stamp in lower right).
Image: 8 x 16 1/2
Paper: 12 1/2 x 19
Excellent condition.
Inventory Number: 10610
Men cutting wood.
Hubert Herkomer was born in Bavaria. His father, a wood-carver emigrated to Southampton when Hubert was a child. He attended the South Kensington Schools from 1866, and studied under Luke Fildes [1843-1927]. Herkomer produced engravings for the Graphic magazine, early in his career. He worked in a variety of areas, particularly social realism, including the famous paintings On Strike [1891], and Hard Times [1885], illustrating the inhumanity shown towards employees by both farmers and industrial employers at that time.
Herkomer was a very successful, and versatile individual. He produced many portraits, some of them of male sitters being a little short of inspiration and flair. In truth this was less his fault than the requirements of the sitters to look sombre, serious, and dignified. He became ARA in 1879, and a full Academician in 1890. In 1899 Herkomer was en-nobled by Kaiser Wilhelm 11 (1859-1941), becoming a 'von,' which he always added to his name thereafter. He was knighted in 1908. He built a grandiose Victorian house in Bushey, Hertfordshire, named 'Lululand,' after his second wife who was killed rescuing a child from a road accident. At Lululand, Herkomer had his own theatre, where he produced plays, and his own operas.
He founded an art school, where his most famous pupil was Lucy Kemp-Welsh [1869-1958]. She has left behind a vivid record of his sarcasm, and severity, but also his unstinting praise of what he saw to be good work.
Herkomer died in 1914. I have not been able to establish if this was connected with the outbreak of the First World War, which must have been a total disaster for the Anglo-German artist. Herkomer's social realism paintings still have the capacity to generate anger from viewers at the exploitation found acceptable in late 19th century England.